Website Solution for Small Municipalities
CiviKit is Upanup's turnkey, government-focused website solution that was born from our experience developing award-winning custom websites for large municipalities across Canada. CiviKit provides smaller governments with similar high-quality online experiences at a fraction of the cost by utilizing tools and functionality equivalent to those used by larger municipalities.
Choosing CiviKit will result in a seamless project process and a reduced workload for your staff. We will provide best practices for web content and navigation and train your staff in how to effectively maintain your website. We will even migrate existing content for you! 
Tell us about your community's website goals, request a quote today. 
Available Templates
Let us take the guesswork out of your website development process by allowing us to do what we do best and bear the heavy lifting for you. You can choose from a variety of existing website designs, which will be adjusted to suit your community's brand. See the solution in action on the Villages of Lions Bay and Sayward websites and as well as the Township of North Dundas. 
Your non-technical staff can easily create engaging and informative content for their audience by leveraging the built-in features and user-friendly CMS. In turn, users can easily navigate their site and find content that matters to them most, thanks to features such as quick links, section highlights, and emergency notifications.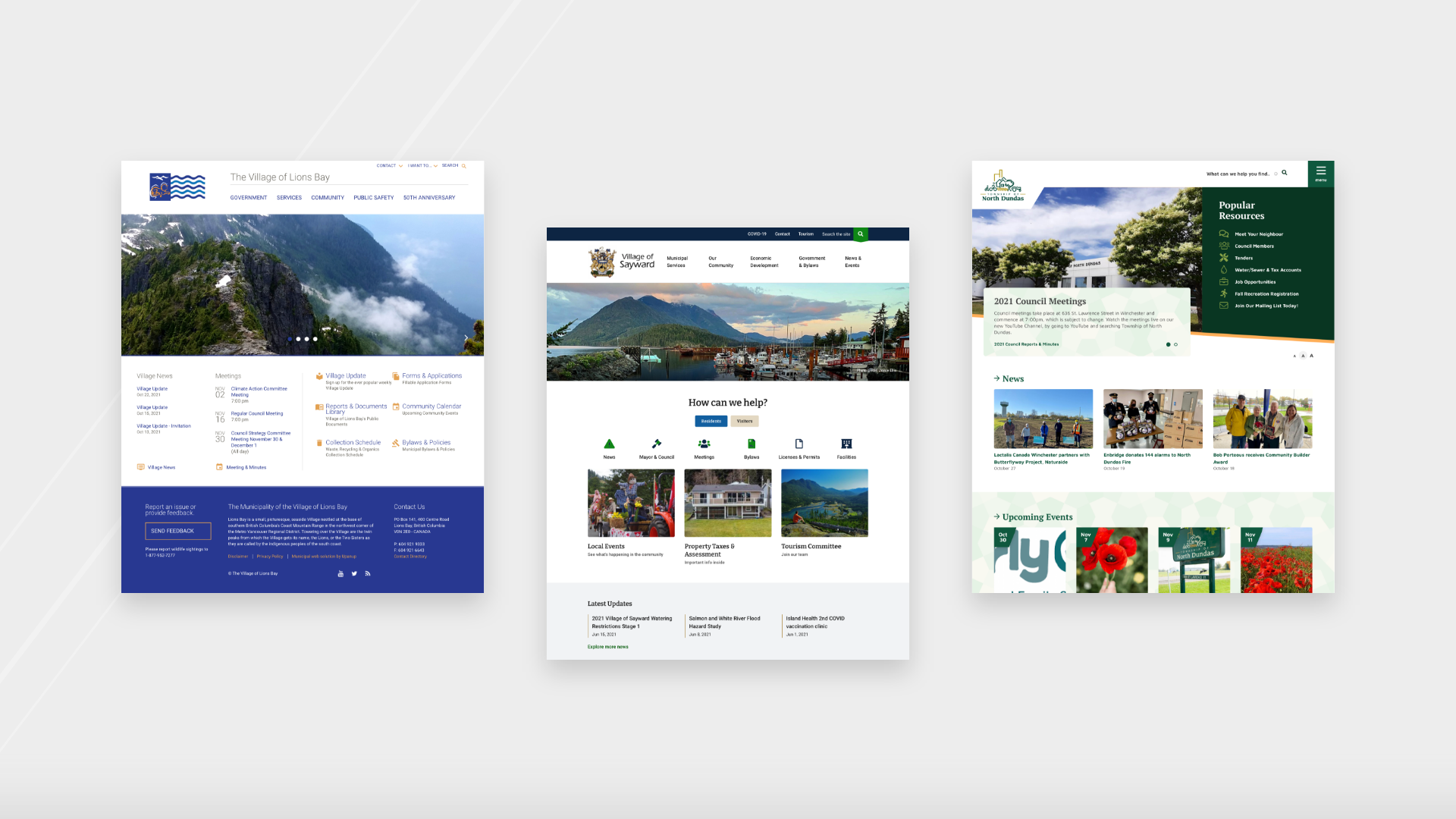 "The development and evolution of our website was seamless with the guidance and expertise of Upanup. Their collaborative approach allowed our municipal administrative team leads to feel comfortable with the advancements and provided training and tools to manage the website after creation. The new, revised, website is much easier for the public to navigate. This ease of use reduces public frustration and, like many rural municipalities, resources are limited, and the website advancements have reduced calls to our office and allowed our staff to focus on their primary tasks." 
Site Features and Functionality 
Government websites act as a reliable source of information for citizens, visitors, and businesses and therefore must be engaging, reliable and interactive for users. There has been an increase in the demand for helpful and easy-to-use online service options for users, so we ensure the CiviKit municipal website solution meets your desired functionality:   
Emergency Alerts
Meetings, Minutes & Agendas
Council Bios
Site Search 
Events & Calendar
Directories
Bid Opportunities
Webforms
Bylaws
Survey/polls
News & Public Notices
Blog/Stories
Parks & Facilities
Photo Gallery 
This website solution is perfect for those that want a new, modern, and intuitive website but have time or budget constraints. By using a tried and tested template that has already been used by other cities, towns, villages and townships across Canada, the CiviKit solution results in a reduced timeline, minimal bugs, and a smooth deployment. 
Site Management 
The back end of our municipal website solutions are easy for non-technical staff to use, update, and create content—from desktop and mobile devices alike. 
The following features are included in the back end of the CiviKit content management system (CMS) to be used at your convenience:
Free CMS—no software required
Accessible anywhere with an internet connection
Simple text editor that is like using Microsoft Word 
Preview mode for content before publishing live (with spell check)
Accessibility checker to ensure users with disabilities or impairments can access your content
Ability to create user accounts with different levels of permission
Dynamic menu structure, with the ability to add, edit, move or delete portions of the menu
Document and media library for organized storage and management of your site documents and graphics
Built-in approval and review process for publishing changes (if desired)
Support multimedia content objects, like images, video, and other media
Ability to add customized images into banners and pages
Create various pages and content types (news, events, alerts, etc.)—from any device
Restore prior versions of web content (if you'd like to keep track of past edits)
Add external links as necessary 
To learn more about the CiviKit solution visit the website, civikit.com, or contact our team of experts. 
Security & Hosting
Backend security is a top priority for governments, our websites are built with the highest and most current level of security, thanks to a secure platform used by leading organizations worldwide (including the Office of the Prime Minister). Additionally, hosting and backup services are both offered through a top-tier Canadian third-party provider and include 24/7 uptime monitoring as well as proactive hosting management support and maintenance. By integrating a flexible, open-source solution like Drupal, you'll get a cost-effective, scalable website that easily facilitates future growth.