High-end Tools at an Affordable Cost
CiviKit provides a broad range of digital platforms for governments and organizations of all sizes to help improve communication and information access internally and with their community. CiviKit can help by:
Providing better channels for accessing information 
Improving communication effectiveness within your municipality
Increasing community engagement
Enhancing government transparency
Boost Your Community
Websites
Image
Affordable off-the-shelf, website solutions for municipalities and community organizations.
Engagement Platform 
Image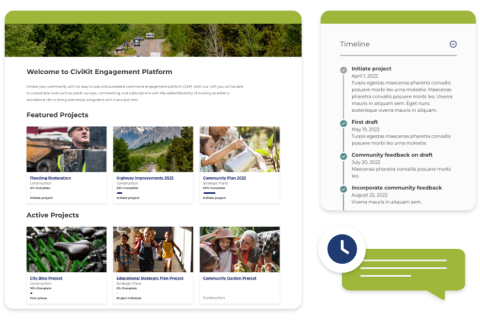 Foster two-way communication around all project-related content.
Staff Intranet
Image
Keep your staff informed and engaged while optimizing internal organization.
CiviKit is a government-focused digital communication solution born from Upanup's experience developing award-winning websites for large municipalities.
"Working with Upanup to redesign our website was a pleasure. They were personable, responsive, knowledgeable, and well organized. Plus, they stuck closely to timelines, which kept us engaged and kept the project pushing forward. The new website is great! Our residents and businesses have been very happy with the functionality and fresh new look of the website. Many thanks to Upanup for their professionalism and service."
District of 100 Mile House
Built With Security in Mind
With CiviKit, your backend is one less thing for you to worry about. Our platforms are built with the highest and most up-to-date level of security thanks to Drupal, a secure platform used by leading organizations worldwide (including the Office of the Prime Minister of Canada).
Hosting and backup services are both offered through a top-tier Canadian third-party provider and include 24/7 uptime monitoring as well as proactive hosting management support and maintenance. By integrating a flexible, open-source solution like Drupal, you will get cost-effective, scalable solutions that easily facilitate future growth.
See What's in Our Toolkit! 
About Upanup
We're a growing, award-winning agency of marketing and communications experts led by senior and diverse specialists in our field. Founded in 2012, with offices in Victoria, Calgary and Kitchener, we've since built over 300 websites for more than 150 organizations. Today, we continue to deliver solutions that help clients reach their goals, and we're constantly looking for new opportunities to do work that has a positive impact, both within our communities and on a global scale.
Contact us to find out more or request a demo from one of our specialists today!