Custom vs. Template Website Design?
Do you need a new website design, but aren't sure if you need a template or a custom design? We have broken down these two different approaches to help you decide which one is a better fit for you and your organization.
Template Designs
Depending on your needs, goals, and restrictions for your website redesign project, a template might be the perfect solution for you.
Some benefits of using a website template include:
Reduced project timeline & budget-the design is already done so you save time and fees in the design phase (view our news post on budgets for a municipal website). 
Reliable design-your design will have been used by other municipalities or organizations so you have peace of mind knowing it has been well received by other users
Fewer bugs-majority of the bugs will have already been addressed from past projects
Incorporate your own branding-the template will be customized to your branding (logos, fonts, and colours)
Optional customizations-if desired you can make customizations to your template to ensure it meets your unique needs (e.g., new content types, layouts, etc.). View our case study for the West Shore Parks and Recreation Society project for more information about template projects
Other considerations of a template approach:
Not unique to your organization-other municipalities or organizations will have the same design. For example, see the image below with the FortisON and Town of Golden websites that use the same template. 
You will not own the website design-the website design will be owned by Upanup but you still get the keys to your site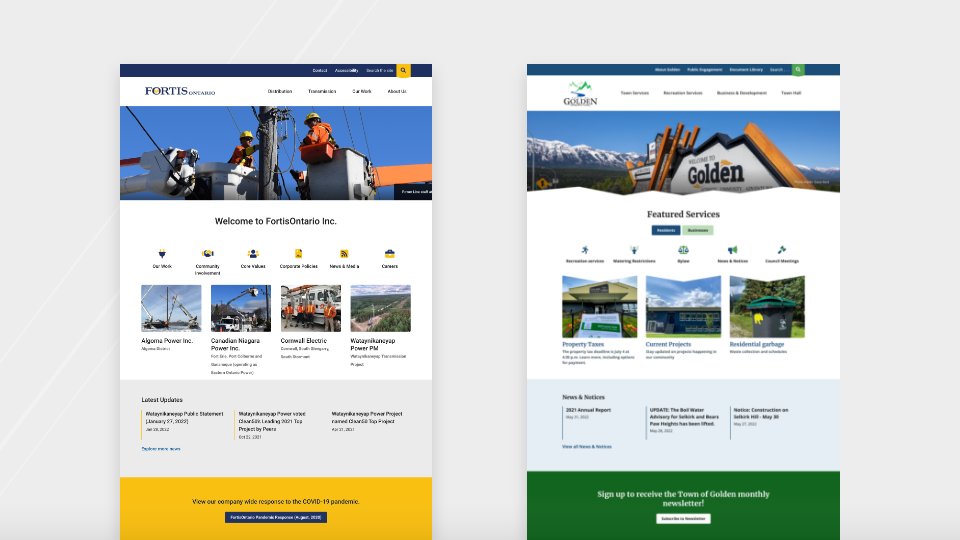 Custom Designs
When we create a custom website design our experienced designers listen to the client's goals and their users' needs to create unique designs that feature different approaches. Our clients can then consider each design and its various unique elements before selecting one.
A custom website design has many benefits:
Reflect on your processes-this approach forces you to think about your business or organization and the process of delivering value to your users
One of a kind design-your design will be unique to your brand, no one else will have the same design and you will own the design
Incorporate branding throughout-your branding can be built into different aspects of your website
Incorporate user experience (UX) testing-you will have the opportunity to conduct testing with shareholders or the public and incorporate the results/feedback into the website design
Tailored to your target audience-every aspect of the website will be built with your target audience in mind
Other considerations:
Requires a longer design phase timeline-there are more in-depth steps required which will require a longer timeline
Often requires a higher fee than a template-the additional time required and involvement of our team members will result in a higher fee.
A Note About Content
There are many considerations for content regardless of which design approach you to select. These considerations include content migration, editing, strategy, site mapping, and much more. We understand how important the content of a website is and for every project, our clients can expect the following: 
Work closely with our content team-our team of content strategists will be available throughout the project for strategy meetings, presentations, etc.
Collaborative work on the sitemap and IA-your feedback will be incorporated throughout the project as the website can be anything you want it to be