British Columbia Growing Communities Fund
Image
The B.C. government will be investing a total of $1-billion in all 188 municipalities and regional districts to support the financial strain associated with keeping up with the demands of a growing population. This fund is designed to allow municipalities to replace older systems, and improve current services to better support their community. 
Fund Details 
The B.C. government has committed a total of $1-billion between all 188 municipalities and regional districts. Each municipality or district will receive an initial $500,000 with additional funds calculated based on population size and per-capita population growth since 2016. Funds are reported to be released by the end of March 2023, and municipalities will be required to report the use of their funds in their annual audited financial statements. More information and guidance on the use of these funds are expected to be released in the coming weeks. 
 
Ways to Invest In Improving Your Services
A growing community increases the importance of having effective online tools when it comes to communicating and sharing information with your citizens. Upanup has partnered with many municipalities to create and enhance websites to better serve their communities. If you don't already have a wishlist drafted for ways to better digitally support your growing community, we have listed some ways you could invest in your growing community based on our experience and industry trends:
​​​​
Website Redesign – If your existing website is cumbersome and difficult to navigate or manage, this may be a great opportunity to do a complete website refresh. We know a new website can feel like a large undertaking, but we're here to help. At Upanup, we've been doing this for over a decade and can help you determine the best course of action for your website, and are here to help along the way to make the process smooth and enjoyable. Reach out today to take the next step.    
Engagement Platform – With a growing community comes increased projects and initiatives, and the importance of connecting with your residents on key decisions. Keep your citizens involved by giving them a voice, and a means to participate in decisions that impact the community. Learn more about our Engagement Platform.
Municipal Apps – A municipal app will provide you with additional opportunities to connect with your audiences and increase engagement. Users will also have to option to find information easily when they are on the go, and receive real-time notifications at the push of a button. Learn more about our Community App.
Digital Recreation Guides – By moving away from printed recreation guides or inaccessible iFrames within your website, you could create a custom online rec guide that can be accessed by your users anywhere and easily updated by your staff. Learn more about our Recreation Guide.
Staff Intranet – A growing community means a growing internal team. Streamline your organization's in-house communication and processes. Learn more about our Staff Intranet.
We highly recommend looking into this fund, and reviewing your digital communications tools to see if any of our offerings can help support your growing community. If you aren't sure where you would like to make improvements, get in touch with Upanup's experts and we can help review your needs and make recommendations!
Image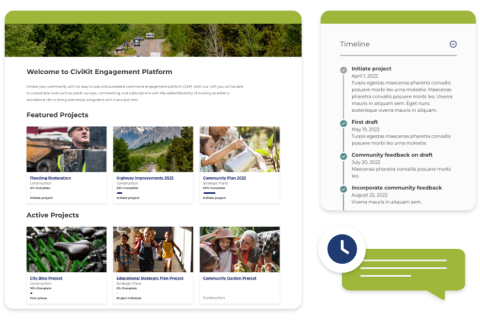 Image